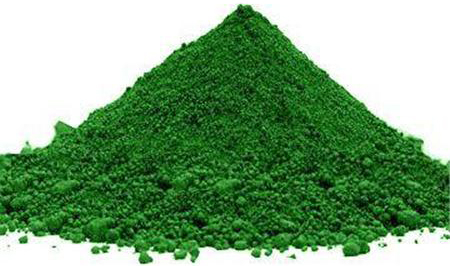 DESCRIPTION
CHROMIUM OXIDE (Cr2O3) - CI PG 17 - 77288
Chromium oxide green contains more than 98% Cr2O3 and has a low Cr6+ content. Like all oxides, chromium green is a highly stable pigment, which makes it the most important UV-resistant green pigment.
Chromium green is only available in 'olive green'.
USE
Cement products like industrial flooring, concrete blocks, concrete bricks, roofing tiles, tiles, grouting, terrazo, etc.
Lime products like mineral paint, fresco, plaster, ornaments, etc.
Synthetics like plastic, bitumen, asphalt, rubber, resins, quartz flooring, etc.
Paint like oil and water colour, etc.
Ceramic products and enamel.
Polishing of metals.