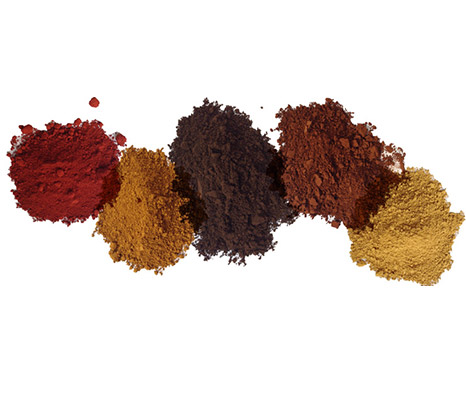 DESCRIPTION
The range of natural pigments consists of ochres, oxides, earths (sienna) and umbers. These natural pigments originate from the erosion of various rocks in countries like France, Italy, Spain, Cyprus, and so on. The quarried rocks are washed, dried and pulverized. The main ingredient and chromatophores of natural pigments is iron oxide, complemented by several other oxides. Depending on the composition, we talk about ochres, oxides, earths or umbers. If the earths and umbers are calcinated the colour changes from yellow to reddish-brown and we speak of burnt earths and burnt umbers. The natural pigments are all in soft natural colours ranging from yellow, red and brown to black.
USE
Cement products like industrial flooring, concrete blocks, concrete bricks, roofing tiles, tiles, grouting, terrazo, etc.
Lime products like mineral paint, fresco, plaster, ornaments, etc.
Synthetics like plastic, bitumen, asphalt, rubber, resins, quartz flooring, etc.
Paint like oil and water colour, etc.
Fertilizers
Paper, cardboard, etc.
Products for treating wood.